If you are doing homework for your next holiday after Covid, and you are interested in visiting Vietnam, You are at the right place!
Hoi An is located downstream of Thu Bon River, Quang Nam province, a famous tourist city with the common name "Hoi An Ancient Town". In addition to cultural values through diverse architecture, Hoi An also preserves a rather massive intangible cultural foundation. The daily life of residents with customs, religious activities, folk art, cultural festivals along with poetic natural landscapes, specialty dishes … make Hoi An more and more attractive to tourists from all over the world. There are some interesting tours in Hoi An that you cannot miss when travelling to this land.
Private half-day tour of Hoi An Ancient Town
Half-day private tour of Hoi An Ancient Town
Learn about the UNESCO-listed city from a personal guide
See the Japanese Covered Bridge and visit galleries and tailors
Enjoy a 1-hour sightseeing cruise on the Thu Bon River
Length: 3 hours
Price: $45
Tour schedule:
08h00: Pick up from hotel and start a walking tour around the enchanting port town.
– Follow the narrow lanes lined with centuries-old houses influenced by Chinese, Japanese, French and European architectures and visit its numerous places of interest: the 400-year old Japanese Covered Bridge, the Phuc Kien Assembly Halls, the local fish market …
– Spend two-hour boat trip on the Thu Bon river to enjoy the natural view and discover the normal life of local fishing people.
11h00: Finish the tour and return to hotel.
What visitors can expect:
With this tour, you can step back in time to Hoi An Ancient Town, a well-preserved historical trading port recognized by UNESCO as a World Heritage site, also stroll with your own personal guide down charming streets to key landmarks such as the Japanese Covered Bridge. It's great to learn about the cultural influences of this once-prosperous city and appreciate its current status as a top destination. This half-day walking tour includes a 2-hour boat ride and round-trip taxi transport from your hotel.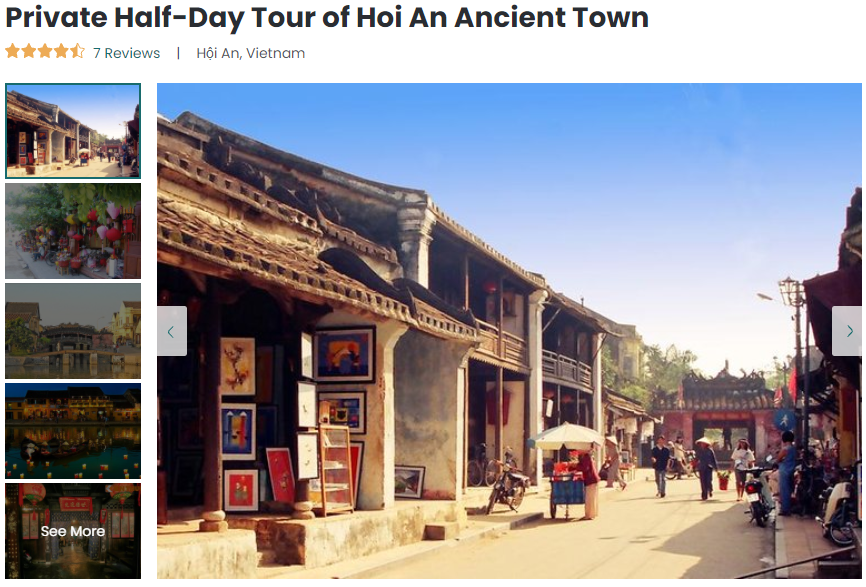 Half day My Son Sanctuary tour from Hoi An
See the historic tower temples that make up My Son Sanctuary
Enjoy a delightful lunch along with your day tour
Learn more about the ancient Champa Kingdom with an expert English-speaking guide
Take advantage of convenient pick-up and drop-off at your hotel
Length: 4 hours 30 minutes
Price: $33.83
What visitors can expect:
Discover the fascinating history of the ancient Champa culture during this 4-hour trip to the My Son archaeological site from Hoi An. This UNESCO World Heritage site was a key center of the Champa kingdom as early as the 3rd century, with building and activity continuing until the 14th century. During your visit you'll have a chance to admire the collection of tower-temples that dot this ancient site, learning about the history and culture of the now-defunct civilization. Your visit to My Son also includes site entrance fees, a guide, round-trip hotel transport and bottled water.
Snorkeling Cu Lao Cham Island tour
– Escape from the bustle of the city to the virgin Cham island with stunning beach and cool weather
– Learn about local life and culture of local fisherman living on the island
– Go snorkeling/swimming/scuba diving to see marvelous coral reef
– Spend leisure time on wonderful clear beach of Cham island.
Length: 6 hours
Price: $32
Tour schedule:
08h00: Morning pickup and transfer to the pier in Cua Dai Beach. Get on speed boat and depart to Cham Island
08:30: Arrive at Cham Island, visitors will have a chance to explore Marine Protected Area, Hai Tang Pagoda, boat shelter, traditional fishing village and local market.
10h00: Go swimming and snorkeling (or scuba diving available upon request) to see the coral reef and biology system of Cham islands.
12h00: Transfer to Bai Ong beach and have lunch at local restaurant.
14h00: Get on board to return the mainland and end the tour at your hotel.
What visitors can expect:
An adventure tour to Cu Lao Cham island to have more exploration of ecological site in small islands far away from Hoi An shore 18kms, you will have chance to see marvelous coral when having snorkeling and scuba diving as well as spending leisure time on beach, enjoy good climate and cool weather, admire the plentiful plants and marine animals. Travel with us to discover more of beautiful landscapes in Cu Lao Cham.
Hoi An half day trip to Cam Thanh Village with bamboo basket boat experience
– Half-day tour of Cam Thanh Village from Hoi An
– Fish with local fisherman from a bamboo basket boat
– Cook and eat lunch or dinner at a local home
– Fruit juice and mineral water provided
– Hotel pickup and drop-off included Choice of morning or afternoon departure
Length: 4 hours
Price: $31.40
Tour schedule:
08h30 – 09h00: A tour guide will pick up you at the hotel
09h30: Meet local fisherman and experience a daily life of their family. You will be welcome with water, coconut fruit and fruit juice.
10h00: Get on a bamboo basket boat and listen to a brief introduction about the history of Cam Thanh Village
11h00: Join local fisherman on the river and enjoy hands-on experience of round-net and cast-net fishing. Learn to paddle the unique Vietnamese bamboo basket-boat and join in a basket-boat race. Explore and go fishing and catch crab, coconut mussels and make tools from coconut leaves.
12h00: Return to the fisherman´s house and cook what you have gathered. Enjoy lunch or dinner and mineral water.
13h00: Return to your hotel
What visitors can expect:
This tour will bring you a unique experience. You can learn about traditional fishing techniques while riding in a bamboo basket boat through the Cam Thanh fishing village, take part in hands-on daily activities while you participate in local life, go fishing and catching crabs and mussels. After that use what you catch to prepare for lunch or dinner at the home of a local fisherman.
Thank you for reading our blog considering tours to do in Hoi An. We hope to see you soon in Vietnam, the land of wonderful beauty and diversity, where you can find countless possibilities for adventures, adventures that will give you deep impressions, adventures that will help you discover new things about yourself. If you want to know more about Vietnam, please contact us at ___. We are always at your service.