Where are we going to visit? It's a big question with so many options and it comes down to your budget, your personal interest, and the weather. Below is the list of famous places in Hue which we highly recommend.
Hue Imperial City
Address: 23/8 Street, Thuan Hoa Ward, Hue City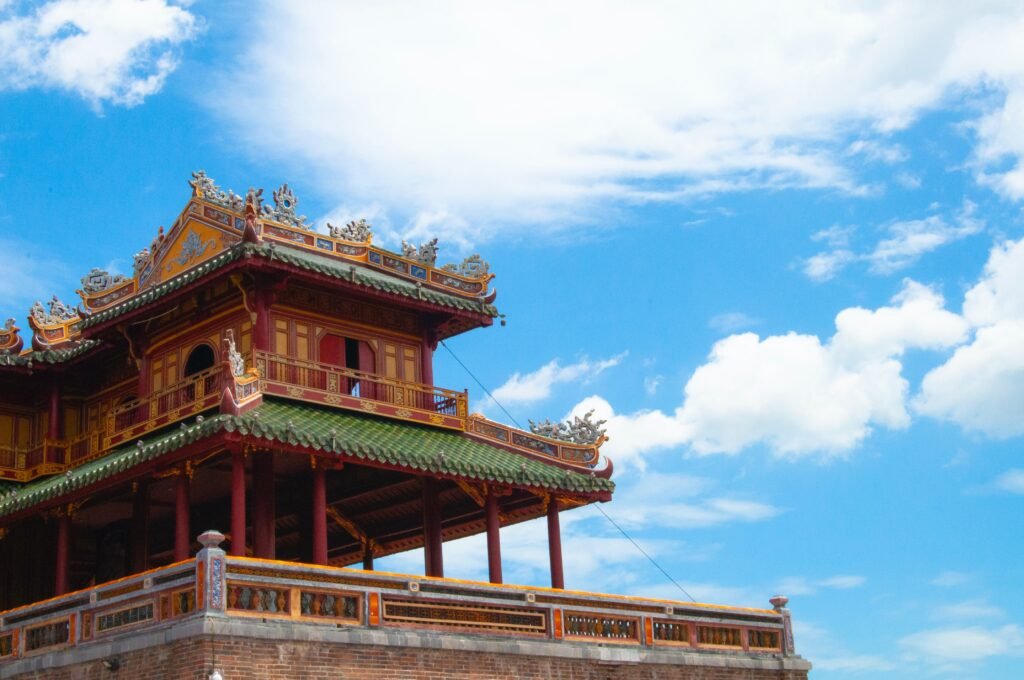 Operation Hours:
Summer: 06:30 am – 05:30 pm
Winter: 07:00 am – 05:00 pm
Ticket price:
Vietnamese citizens: 150,000 VND / adult – 30,000 VND / child
Foreign tourists: 200,000 VND / adult – 40,000 VND / child
Hue Citadel, built from the early 19th century to the first half of the 20th century, is one of the relics belonging to the Complex of Hue Monuments, which has been recognized as a UNESCO World Cultural Heritage Site since 1993. The panorama of Hue Citadel still preserves many unique imprints of feudalism of the Nguyen Dynasty.
In 1803, during the reign of King Gia Long, he realized that Hue was a peaceful place with poetic scenery. Since then, King Gia Long came up with an idea to choose this land as the land as the ancient capital of the Nguyen dynasty. After 30 years of construction with much effort, an overall construction of the new capital was officially completed, Hue Citadel has a charming beauty, in harmony with the beauty of nature.
Hue Citadel has two main areas, the Imperial Citadel and the Forbidden City. Each area includes many different works. The Imperial Citadel includes Ngo Mon Gate and Thai Hoa Palace. The Forbidden City used to be an area for the king and the royal family, including Dai Cung Mon, Ta Vu and Huu Vu, Can Chanh Palace, Thai Binh Lau, Dien Tho Palace…
April to May is the most popular period to visit Hue because by this time, the Hue Festival will take place. Festival in Hue is held every year, known as the biggest and most unique festival in Hue City as well as Central Vietnam.
Hue High School for The Gifted (Quoc Hoc Hue)
Address: 12 Le Loi Street, Vinh Ninh, Hue City
Opening Hours: 07:30 am – 05:00 pm
Ticket price: Free entrance
Quoc Hoc Hue, also known as Hue High School for the Gifted, is a famous school in the ancient capital. Along with two schools: Quoc Hoc Quy Nhon and Quoc Hoc Vinh, Quoc Hoc Hue school is one of three high schools for the gifted that French people established in Central Vietnam for a training of new civil servants for the Protective Government of Southern Vietnam.
Quoc Hoc Hue has long been dubbed the "Harvard school" by young people in the Vietnamese version! It is no coincidence that people give this field this nickname. The school not only has a long history and is famous in the field of education, but also possesses an ancient and Western beauty. It is easy to recognize Quoc Hoc school by an outstanding brick red architecture.
Most of the classes take place all morning. In the afternoons there will be some specialized classes and physical education classes. Therefore, the best time to visit the school is in the afternoons every day of the week. Particularly on Sundays, Hue tourists can freely visit and check-in the school.
Mausoleum of King Minh Mang
Address: Highway 49, Huong Tho, Huong Tra, Hue City
Opening Hours: 07:00 AM – 05:00 PM
Ticket prices:
Adult: 150,000 VND
Child: 30,000 VND
Minh Mang is the fourth son of King Gia Long, an intelligent, willful and disciplined person. After the death of his father, Minh Mang was enthroned. This is a king with great merit in the reform of the country, bringing the country up to par with Southeast Asian countries. Ming Mang has been known as the king with the most wives and children in history.
Being a master of Confucianism, Minh Mang's entire architectural work of mausoleum was also built on the main Confucian ideas. The entire campus has an area of ​​1,750m2, viewed from above like a figure resting very leisurely.
Holding the throne for 7 years, King Minh Mang began building his own mausoleum. In April 1840, the construction was started. In January 1841, Minh Mang suddenly got sick and died. The unfinished mausoleum work was continued to be controlled by King Thieu Tri himself. In 1843, when the mausoleum was completed, the body of King Minh Mang was brought in.
Dai Hong Mon is considered the main gate of the mausoleum. The gate is beautifully decorated and consists of 3 ways. In the past, the gate was only opened once to bring in the king's coffin. Normally, if you want to travel, you have to go by 2 ways on either side because the middle one is closed. The 2 small ways are called Ta Hong Monand Huu Hong Mon. Anyone who enters to explore the mausoleum will pass through this gate.
Stepping inside the mausoleum, you will see a shrine with the Hien Duc Mon works of architecture. The work symbolizing the Earth God was built on a square piece of land. Sung An Palace is a place where the altar of King Minh Mang and a queen is placed. The shrine has an indescribable majesty and no less solemnity.
Thien Mu Pagoda
Address: Ha Khe Hill, 140 – 142 Nguyen Phuc Nguyen, Hue City
Opening hours: 08:00 AM – 06:00 PM
Ticket price: Free entrance
Thien Mu is the oldest ancient pagoda in Hue with a lifespan of more than 400 years. Built in 1601 during the reign of King Nguyen Hoang. King Nguyen Hoang met a hill named Ha Khe with the image of a dragon turning its head. Later, the king built a temple on this hill, named Thien Mu pagoda.
Thien Mu Pagoda in Hue has undergone many renovations and expansions, becoming a temple with a strong architectural impression. Thien Mu Pagoda is a complex of many superficial and beautiful architectural works, bearing the unique architecture of the ancient capital of Hue.
Tam Quan Gate is the main gate leading to the temple with a structure of 2 floors, 8 roofs and 3 paths. At each entrance through the gate, there is a wooden plank door, on both sides there are guardian statues. Stepping through Tam Quan gate, you will admire 12 giant wooden temple guardian sculptures.
Phuoc Duyen Tower is not only the main attraction but also considered as a symbol of Thien Mu pagoda in particular and of Hue citadel in general. This tower was built in 1844 with all 7 floors. Visitors can climb to the top floor of the tower by a spiral staircase system. Standing from here, you will have the opportunity to admire beautiful natural scenery, captivating people.
Dai Hung Palace is a main hall with the largest area at Thien Mu Pagoda. In this place, there is a statue of Maitreya Buddha who has ears as if to listen to the suffering of sentient beings and has a big belly that is tolerant of people's mistakes.
There are more places to visit depending on your interest and budget, and time you will stay in this region. We will show you more interesting places where only local people know and will take you there. Stay tuned!